This column was written for JAPAN Forward and published on June 16.
***
By Ed Odeven
When Robert Whiting arrived in Japan as a 19-year-old to work for the United States' National Security Agency at Fuchu Air Station near Tokyo in 1962, Nippon Professional Baseball was in its infancy. Established in 1950, NPB quickly capitalized on this nation's love of the sport.
When Whiting published his memoir, Tokyo Junkie: 60 Years of Bright Lights and Back Alleys . . . and Baseball, (Stone Bridge Press, 384 pp.) in April 2021, he delivered a literary grand slam. It's an introspective look at his life, providing a mesmerizing collection of anecdotes about the people he encountered, with abundant recollections of friends and acquaintances, notorious underworld figures and prominent politicians, and vivid descriptions of his adopted hometown's remarkable transformation in the early 1960s in the run-up to the Tokyo Olympics to the present day.
An acerbic wit and a deep appreciation for history help propel this book to great heights.
And when the topic is baseball, which is deftly weaved into the book's overall broader themes, Whiting is in his element. He is an authoritative writer on the subject, bringing the game to life with crystal-clear clarity.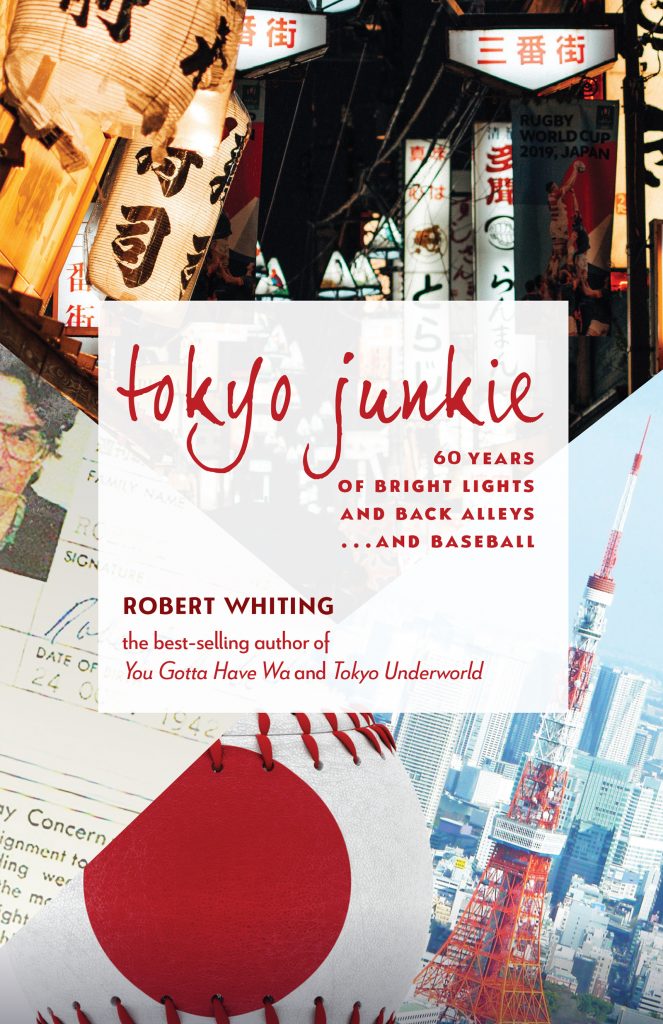 Whiting's The Chrysanthemum and the Bat (1977), You Gotta Have Wa (1989) and The Meaning of Ichiro (2004), are an essential introduction to Japanese baseball, giving readers a window into how the sport mirrors the culture here.
Before his deep dives into baseball on clacky keyboards in smoke-filled cafes and elsewhere, Whiting witnessed the unforgettable Opening Ceremony of the 1964 Tokyo Olympics on October 10, 1964, on television. As becomes clear throughout the book, he was in the right place at the right time.
In a chapter titled "Zen Cathedral" about one-third of the way through the book, Whiting's keen awareness of baseball's ties to traditional Japanese culture is highlighted.
"It was baseball, a quintessentially American sport, that gave me my first true connection to Japan and its people," he admits in the opening sentence of the chapter.
Baseball also became the foundational subject of his Japanese language education. Ample opportunities existed every day, and Whiting developed a productive routine.
He watched Yomiuri Giants games every night on TV. And as he heard Japanese combined with American baseball words and phrases again and again during the telecasts, his language education had a key building block.
It wasn't enough, though, for Whiting to follow baseball on TV. He challenged himself by attempting to read the morning sports daily newspapers. It was a difficult task but he persevered, as he recalls in this memorable portraiture:
"Each morning I dragged myself out of the futon, put on my jeans, T-shirt, and sandals and, brushing my long hair out of my eyes, headed for the station kiosk, armed with my kanji dictionary. There I picked up a copy of the Nikkan Sports, one of the top million-selling sports papers, and proceeded across the street to the Sakura coffee shop. For the next couple of hours, I would sit in a booth with the paper spread out before me on the polished oak table, sipping my morning roast and smoking my Hi-Lite cigarettes as I made my way through the stories. I would become aware of the curious stares bent in my direction as soon as I began deciphering the front-page headline with its colorful array of Chinese characters."
As time marched on, Whiting's command of the language improved immensely. And his understanding of the foothold that baseball had on Japanese society grew, too.
Credit Whiting with boiling down the most important talking points about Japanese baseball in Tokyo Junkie — and in his other books, essays, columns and speeches — to bite-size nuggets.
Case in point: Everything you really need to know to grasp the Giants' omnipresent cultural begins with the following facts he writes about from the 1960s:
"Enter any coffee shop, sushi shop, izakaya, or bar after seven at night and there would be a TV tuned to the Giants game. It was a citywide obsession. It was a nationwide obsession. Surveys showed that one out of every two adult Japanese was a Giants fan. You could compare their popularity to that of the New York Yankees, Boston Red Sox, and Los Angeles Dodgers combined. But that would be understating the case.
"If baseball was the national religion of Japan and the Giants the leading practitioners of the faith, then Korakuen Stadium was its cathedral." 
To read the rest of the column, click here.